Tarpon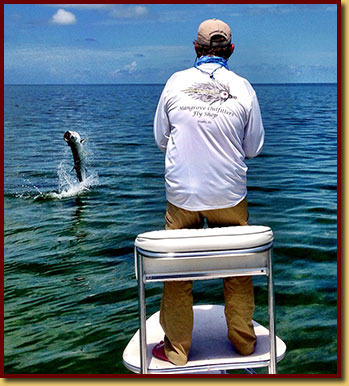 In the minds of most fly fishermen the pinnacle of the sport is to land a giant Tarpon using nothing more than a fly rod and a little fluff known as a fly.  The Crystal River and Homosassa flats can only be described as the true Super Bowl of the sport.  Our area boasts the 2 largest Silver Kings ever landed on fly and to each of these fish's credit they challenged their fly anglers for hours to stake claim to these Giants.
Although the legendary flats that make up the Crystal River and Homosassa have probably had more "World Record" sized tarpon swim through them than any other flat along the Gulf Coast, the true beauty of the fishery is the way these fish are targeted and the types of terrain these fish call home.  Acres of turtle grass flats, miles of crystal clear sandy bottom, and the large scattered rocks that encompass these flats are the true beauty of the terrain.
With such a variety of terrains, comes a variety of techniques.  The one constant however, is the stealthy approach that is required to sneak up on the "Daisy Chaining" Giants.  Happy, laid up fish are what we're after, but certain situations required a pole or troll technique for getting the perfect 180 degree shot.  Shots of 70ft are the norm but when the right situation arrives multiple shots can occur with in the same school.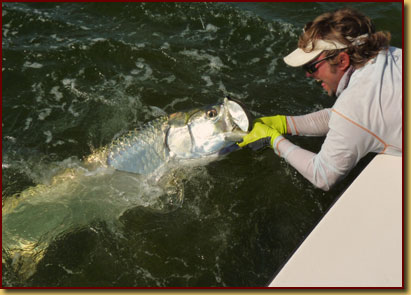 Although Tarpon are a migratory species with the height of their season being from April-July, we are also home to a year round resident community of fish that varies in size.  With so many springs in the area Tarpon do not have to travel far to find a constant water temperature that they are comfortable with.  Even in the winter months there are still plenty of opportunities for shots at some of these Giant Tarpon.
So if doing battle with the great Silver King is on your to do list think of traveling to Crystal River or Homosassa for your next shot at a "World Record!"