Redfish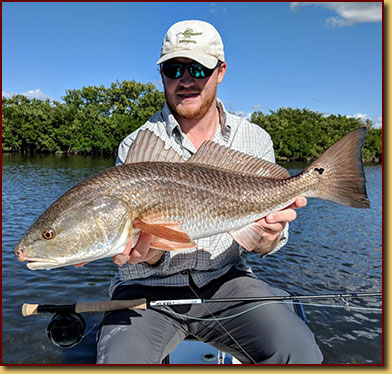 Gin Clear Waters + Extreme Shallow Water Stalking = Sight Fishing to Tailing Redfish!!!!
Fly Fishing for Redfish (Red Drum) is by far one of the most exhilarating and rewarding experiences a fly fishermen could ever imagine.  Sight fishing for any species of fish is an amazing experience in itself, but when you add massive schools of Bull Redfish and extremely shallow water into the mix your mind can't help but create scenarios of iconic proportions.
Can you imagine being poled down a secluded creek with mazes of beautiful mangrove islands surrounding you?  As you glance out into the distance you spot what looks to be the glistening tails of a feeding school of Redfish.  Before you can even get out the words "is that", Capt. Kyle is already positioning you and says "BIG school of happy fish at your 2 o'clock!"  As you're being poled closer and closer you begin to set yourself up for what is going to be your most beautiful cast of the day.  "Big Redfish 30 feet at your 10 o'clock."  You make the perfect cast to a 14lb Bull Redfish.  "Strip, Strip, Strip, Strip!, He Ate!, He Ate!"  As you watch the backing fly off your reel, that sweat sound of the drag helps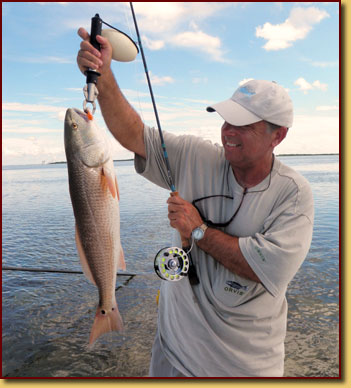 you remember why you began flyfishing in the first place!!!  Then you think to yourself "LIFE IS GOOD!!!!"
Fly fishing for Redfish is as action packed as it is picturesque.  The Crystal River and Homosassa areas are home to a very productive year round Redfishery with the peak of the season lasting from February-November.
So if targeting Redfish in extremely shallow water is on your check off list of things to accomplish for your fly fishing resume, think of fishing the legendary waters off the Crystal River and Homosassa with Capt. Kyle Messier and Reel Florida Fishing Charters today!!!