Capt. Kyle Messier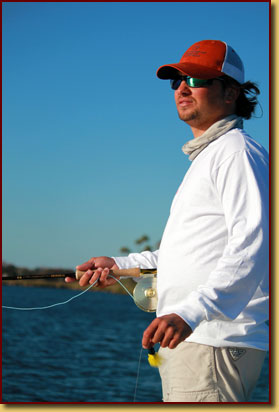 Capt. Kyle Messier is a Coast Guard Licensed Master Captain and a true local of the Crystal River and Homosassa areas. He's also an Orvis endorsed fly fishing guide and casting instructor.
Growing up on and around the water has provided him with a plethora of experiences and memories which he enjoys sharing with his clients on a daily basis. As a teenager he found that an early career in the commercial fishing industry provided him an opportunity to log countless hours on the water focusing on fishing patterns and migrations that occur yearly along the Nature Coast. Poling a mullet skiff for 7 years was extremely beneficial but it wasn't his true passion. His true passion was poling a flats skiff and sight fishing for Redfish, Speckled Trout, Tarpon, and Tripletail up and down Florida's west coast.
Capt. Kyle opened his first charter company Red Hot Fishing Charters/Florida Fishing Adventures in 2002 and grew it into one of the most successful charter businesses along the Nature Coast (now called Reel Florida Fishing Charters). At first this was simply a means to supplement a fishing habit and help pay for college but as the years progressed his enjoyment of watching excited anglers come from all over the world to fish in his "backyard" overjoyed him. "As the years went on I realized just how truly lucky I was to have access to such a beautiful year round fishery like the Crystal River and Homosassa."
His passion for the outdoors and his intimate knowledge of the area are what has helped him become one of the most dynamic fishing guides in Florida. And that is what you get every time you step foot in one of Capt. Kyle's flats skiffs, a passionate captain who's love is the water and whose job is to cater to his clients.